Not live quite customary to have unregistered, as planned breeding station had its own website. But I want my friends, acquaintances, but actually not only them but also to other
interested parties draw near coexistence with your four-legged friend Janis
.
It started many years ago, even before its birth, when they took over the idea of me from slumber - have a dog again. For all my life until now I had plenty of dogs that I knew that he could only really understand a person and become familiar with him so that he could be a real friend. The term "true friend" dog can be viewed much differently than a man. It can really be a true friend who never fails. Those dogs that I had before were different - one large, the other a small-strong, weak second - warm and unfriendly, in any case, I have been faithful friends.
The fact that I have now decided to Staffordshire Bull Terrier has a strong inspiration from the previous events. I once had a male defender - called the "Choky" category and was
the German shepherd
. Then I wanted a dog for children to play - as a small female
Scottish Terrier
"Chika". Later I needed a dog to guard, I acquire a "Kiku"
German Spitz
. I had a brief, yet excellent relationship with
westhighland terrier
"Corry". And I had a sharp dog - if it was an
American Pit Bull
"Leon".
Now that is among the seniors, like my Staffordshire Bull Terrier. It offers me exactly what I had to do while, but in fact it actually want. The regular rhythm of the day, actively and passively lounging walk, common antics,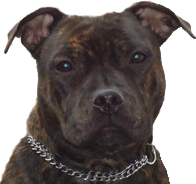 but also more stringent exercises. And offers me almost incredible, his fantastic, authentic approach in principle to all people. Even in the short answer the question "Why Janis." Of course, at the very beginning, as I mentioned, was thought to be accompanied by various studies such as: how, why, why, welcome. Next came a series of questions on the quality and availability of course. Even when I select the breed, or sex did not take lightly, finally got it very fast. I originally wanted a dog named Prinz, of which I have basically had a reservation at CHS - Field of cloth of gold, Mr.Nagy, however quirk of fate I eventually bought a bitch from kennel Janis - Crazy Magic by Mr. Ing.Ciada. The two masters, I want to thank everyone were to me in a way quite correct, and tolerated my decision at that time and the gaps in my knowledge of this, dare I say it quite normal breed. I have no doubt about the quality of Prinz and I believe that the proprietor will only bring joy and satisfaction. I also believe that even our Janis will follow in the footsteps of their ancestors. After all, not to mention her parents-champion, and all four grandparents are "
Champions
".
And this little bit of it as part of the binding.
But not only it, of course, even me.